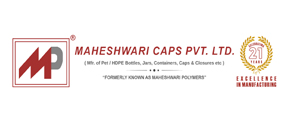 Maheshwari Caps Pvt. Ltd. (Formerly known as Maheshwari Polymers), established in the year 2004, is a trusted name among leading companies engaged in manufacturing and supplying a diversified range of different items that includes Plastic Caps & Cloursers, Plastic Packaging Containers, HDPE bottles & jars, Pet Preform, Pet Jars and Molds & Dies etc, manufactured with Injection and Blow moulding technique using thermoplastic polymer which is procured from reliable sources and checked by our quality inspectors. We have our own in house mould manfacturing units which allow us to serve customer with verity of products.
Our Group Companies
Midas Polypack Pvt. Ltd.
F-199-200, M.G.Road Indl. Area, Phase - 1,
Masuri, Ghaziabad - 201302 (UP) India.
DMF Register and BRC Certified Company
Maheshwari Caps Pvt. Ltd.
F-31, Udyog Kunj Indl. Area,
NH 24, Hapur bypass road,
Ghaziabad - 201015 (UP), India.
Mystic Creations LLP
F-152-153-154, M.G.Road
Indl. Area, Phase - 1,
Masuri, Ghaziabad - 201302 (UP) India.
Quality Assurance
Being a trusted company in India, our endeavor is to provide quality to our customers for which, we follow various checking standards and tests that help us to prevent any nuances. Quality of our pet jars, plastic caps, polypropylene bottle caps, injection molded containers, clear pet jar, injection moulding items and blow moulding items etc.
Why You Should Choose Us!